Rendezvous Registration for 2022 is Now Closed - See You in 2023!
Sept 2-5, 2022 - Latter Day Lizards, 3 Person Stringrays, Cis Hinkle, Bob Isaacs!

Regarding Covid: Masks will be required at all times when in the hall, in addition to proof of vaccination and booster, plus a signed waiver. We will require a rapid test within 6 hours of the Friday night dance - we will have some tests available at the hall.

Given our current situation, you may cancel at any time, with only a $10 cancellation fee. If you have a positive Covid test result, the cancellation fee will be waived.

Note: At this time, requests for housing exceed availability, so please plan accordingly.

Rendezvous Weekend Now Offering Single Day and Evening Admission on Sat/Sun/Mon! $45 for Saturday or Sunday night, $80 full day Saturday or Sunday, $45 Monday - students get $20 discount. Proof of vax + boosters, masks, waiver, and rapid test within 6 hours required. RSVP to rendezvous@cfootmad.org so we can plan food accordingly - PAY AT THE DOOR.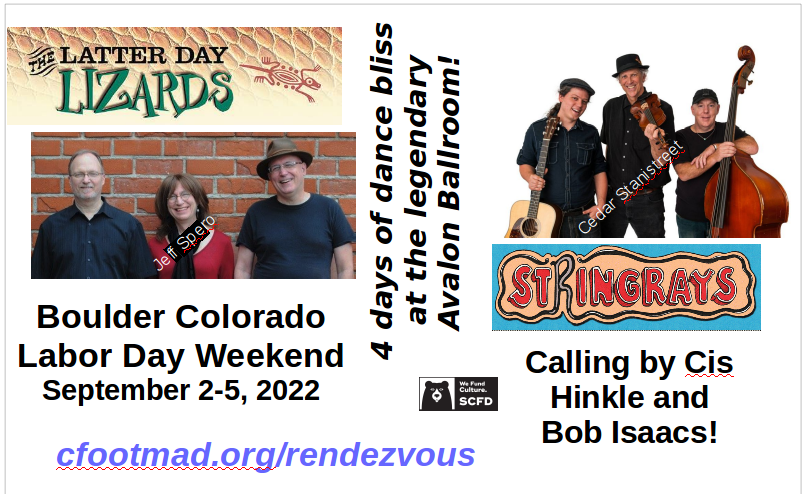 Check out our Facebook page.